Sidespin Group was founded by Dr. Istvan Jonyer, a scientist, engineer, serial entrepreneur, and investor. Dr. Jonyer has extensive software engineering, research, and management experience in various areas of computer science with leading technology companies. At Google, he was responsible for launching Google TV (later Chromecast) devices with OEMs and SoC vendors like Sony, Samsung, LG, Sharp, Vizio, Logitech, Intel, Marvell, and MediaTek. Earlier, he designed 3G mobile communication systems for Nortel Networks. Dr. Jonyer was also an assistant professor of computer science at OSU, with an NSF-funded machine learning research program. Dr. Jonyer has been a venture capitalist with four funds covering frontier technologies like machine learning, autonomous vehicles, AR/VR, and streaming media delivery.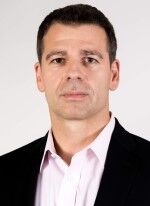 Dr. Jonyer holds a Ph.D. in machine learning from The University of Texas at Arlington, and an MBA from Carnegie Mellon University. Dr. Jonyer has also served as an expert witness in software-related litigation, such as patent disputes, invalidity, and breach-of-contract matters.
In table tennis, the sidespin loop is a shot that has the ball spinning around its vertical axis, causing the ball to curve as it flies over to the opponent's side. Istvan Jonyer, Sr., the four-time world champion table tennis player, is credited with inventing this shot and using it so effectively that the rules of the game were changed because of him. He was often able to curve the ball around the net, from extreme forehand positions, causing the ball to roll onto the table, making the shot unreturnable. We adopted the name Sidespin Group to honor his legacy and to remind us to be game-changing at whatever we do. Our logo is reminiscent of a paddle moving to hit the ping pong ball. To learn more about this topic, please
visit here
.